10X (W/V) SDS-PAGE Running buffer (Tris-glycine)
---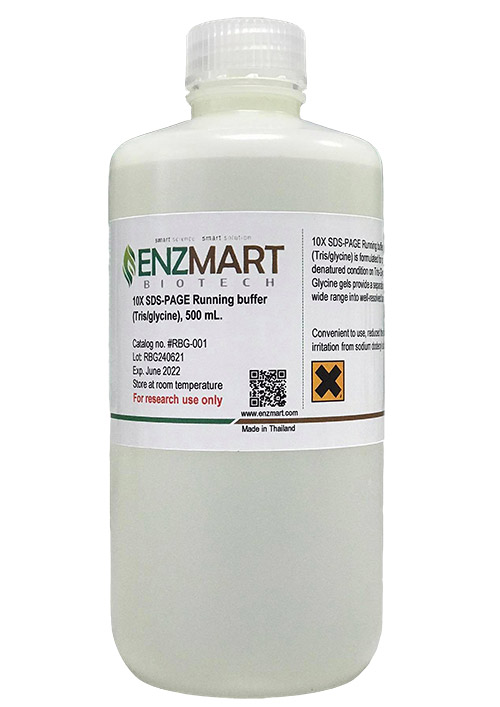 Description:
protein separation in denatured condition on Tris-Glycine gels.
Tris-Glycine gels provide a separation of protein with wide range into well-resolved bands.
Convenient to use.
Reduce inhalation and contact hazards associated with weighing and preparing.
Form: Liquid
Content: Tris, glycine and SDS (pH 8.2-8.4)
Storage: Store container at room temperature.
Usage: Dilute 10X (w/v) SDS-PAGE Running buffer (Tris-glycine) to a 1X solution using water.
Shipping: Room temperature
Price and Availability
| | | |
| --- | --- | --- |
| Catalog no. | Pack size | Price |
| RBG-001 | 500 mL | 2,200 BAHT |
Our Products & Services
Enzmart protein markers are our first commercial product. Made to the highest international specifications but priced very competitively, these will help lower the cost and procurement time of laboratory reagents for researchers in Thailand.